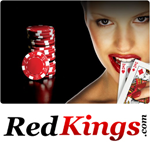 Red Kings Poker features alongside a number of other gaming options but if you like poker, this is a site that is definitely of interest. With an innovative welcome bonus on offer and plenty of poker game options, this site could be one that adds a lot to an online poker portfolio.
Promotions are always of interest to a new player
The promotions offered by Red Kings Poker for new member's rewards them for how often they play as opposed to how much money they deposit, which is a novel approach and one that will find favour with many online players. The more a player plays online poker and earns points, the more poker bonus funds will be deposited into their account by the site. For instance, choosing the Hearts bonus option sees a player rewarded with $10 for every 120 points they earn. This bonus can keep tallying up until a player earns $250, which is a rather sizable welcome bonus!
If you feel as though you are going to be regular player, the Red Kings Poker Bonus provides $100 for every 900 points earned. This bonus can reach $1,000, which is above and beyond what most welcome bonuses will amount to. These bonuses have to be earned but if you think you will be a regular on site, it is worth going for the big prize because if you want a bonus, why not go for the big poker bonus.
Games can often make or break a poker site
Red Kings offers instant play poker games so there is no need to download software if you do not want to but the download option is available. Some people don't want to download software onto their computer and these people are perfectly catered for with the wide variety of instant play games.
However, some players will want the widest selection of poker games available to them and this is where the download option comes in. Both styles of play feature roulette
Red Kings Poker is a site that earns its recommendation
The initial impression of the Red Kings Poker site is that it is a rather basic sit but the site manages to work this to its advantage.  It may not look flashy or shout from the rooftops but the bonuses on offer are ones that will keep poker players coming back frequently. Some welcome poker bonus offerings promise a lot but provide very little. Red Kings Poker says everything up front and admits that the more you play, the more likely you are to earn bigger bonuses. With plenty of great games to play via download or instant play, there are many reasons to come back and Red kings Poker could be a poker site that starts to challenge for many people's attention.